Wafer Tweezers for Semiconductor Wafer Fabrication
Our wafer handling tweezers will help your semiconductor silicon wafer fabrication.
It's time to say SAYONARA to conventional metal wafer tweezers which can cause metal contamination.
Vacuum Wafer Tweezers for Wafer Fabrication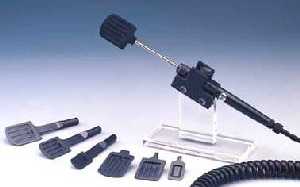 Our patented valve ensures reliable suction and release of a wafer.
The well polished inner wall of the valve minimizes particle generation.
The optically polished wafer tip provides excellent adhesion to a wafer.
The tweezers can be easily detached from the tubing.
Vacuum Tweezers for die and small diameter semiconductor wafer processing are here.
Manual Wafer Tweezers for Wafer Fabrication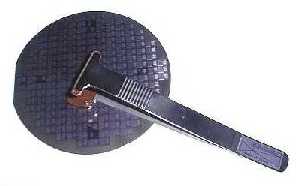 Our unique design ensures to handle a delicate and fragile wafer softly but firmly without excessive touch.
The surfaces of a wafer are never scratched in contrast to metal tweezers.
The area that contacts wafer surfaces is optically-polished to reduce surface particle counts
You can find the wafer processing tweezers which meet your requirements at our Tweezer Catalog.
Our wafer tweezers are all made in Japan.
Please contact our distributor for more information.
---
Home | Vacuum Wand | Manual Wand | Vacuum Pump | Interactive Catalog | Die Handling Tool | Contact